Our Environmental Commitment
Our environmentally-friendly processing methodology includes using only ancient spring water as a solvent and our raw materials; such as our Sauvignon Blanc skins and seeds and our Kiwifruit extract are a waste bi-product of other primary industries.
New Zealand Secret believes in reducing production wastage, using all parts of our raw materials. This is the best use of these highly valuable bi-products as we are able to vastly reduce the landfill dumping of these elements, which in mass can be toxic.
Our raw materials are also GMO free and our suppliers have sustainability certifications and are strictly monitored. Our 26,000-year-old water is taken from a natural aquifer as part of the very slow trip back to the sea.
New Zealand Secret's packaging is also sustainable; our bottles are made from glass and the cardboard packaging is 100% recyclable. We use nothing that is harmful to the environment, as even our wooden bases are made from recycled timber that has been used at least once before.
Sustainability
New Zealand Secret is committed to uncompromising beauty that is founded in nature.
Built upon twin principles of harmony and equilibrium;we are inspired by the grace and beauty of New Zealand's unique natural world and we cherish everything we make.
We use only natural ingredients sustainably harvested and gently processed with care and attention. We add nothing artificial.
By devoting ourselves to meaningful beauty we encourage our customers to take care of themselves, to respect the world's delicate balance and care for it in the same way they care for themselves and for those whom they love.
Traceability
The world has changed and we recognize that consumers now want to know what they are buying, where it has come from, how long has it been travelling and when was it harvested or manufactured. A few years ago there wasn't that much interest right now this is at the front of buyers minds when they look at a product not made in their own country.
Every single jar or bottle we create has a unique QR code placed on the base of the box so you can verify its authenticity, the date it was packaged, the ingredients it contains and its limited edition number. You can find out all this information by scanning the QR code on the packaging with your mobile phone. This method gives 100% certainty of the authenticity of our products. Should the code not match with ours our system will inform you that the product is a counterfeit, it is impossible for anyone to generate the codes we use and how they are applied so you can have complete faith in our products being genuine.
We are the only skincare company in the world to show you proof of our "individual harvest to sale" process
Please scan the code below for a demonstration of an actual product scan result: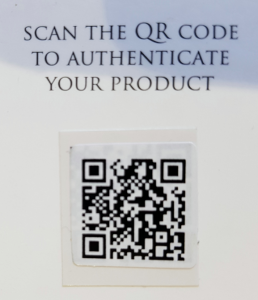 This is a 30ml Jar of our Eye Cream and the unit has a verified ID which is R5L6EADM
If you scroll down the screen you will see its history and where it came from Only New Zealand Secret Ltd can do this with each of their individual products.
Protecting your cream
We mount all our products on a sustainably sourced hardwood base for extra stability which once removed from the box becomes a counter stand for your bottle or jar.
Under the jar you will find black lid located in its own recess, this is to be used after you have broken and removed the safety seal so you can protect your cream from exposure to the air.
expert care
If you have any questions about New Zealand Secret™, what inspires us, our products, how we produce them and which ones are best for your skin contact our skincare experts: [email protected]